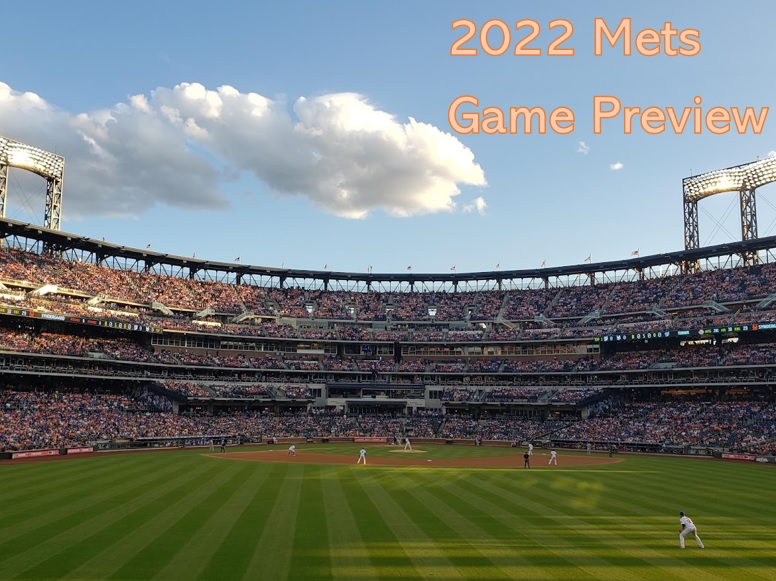 The biggest series of the year is finally here. The Mets head down to Atlanta to start a three game set with the Braves. The division championship is on the line – meaning an easier path in the playoffs is on the line.
If the Mets get swept, they enter the last series of the year two games back with the Braves holding on to the tiebreaker.
If the Mets win one game, both teams will be tied heading into the final series with the Mets holding on to the tiebreaker.
If the Mets win two of three, they will go into the last series of the year with a magic number of one.
If the Mets sweep the Braves, the Mets will celebrate clinching the NL East in Atlanta.
There's a lot happening for the Mets tonight. In addition to it being the start to the most important series of the regular season, the Mets are calling up their #1 prospect, arguably the #1 prospect in all of baseball – Francisco Álvarez. Álvarez has a .260/.374/.511 slash line this season between Binghamton and Syracuse and has clobbered 27 homers. He did this while being 3.8 and 6.3 years younger than the average player in the Eastern League and the International League.
The most important thing for the Mets to do is to win game one and they have Jacob deGrom on the mound to do that. Jacob has made 10 starts and pitched 58 1/3 innings this season with a 2.93 ERA, 1.74 FIP, 0.737 WHIP and a 132 ERA+. Jacob's last three starts have been a less deGrom like than we are used to though. Over 15 innings he's allowed 11 runs from 15 hits and four walks and three homers. He's still striking out the world with 28 recorded strikeouts. There's a huge discrepancy between his ERA, 6.60 and his FIP, 2.78. To put that in context, in his first seven starts this season he had a 1.66 ERA and a 1.38 FIP.
Jacob has faced the Braves twice this season. In his first start against the Braves, in Queens, he allowed two runs from one hit over 5 2/3 innings while striking out 12 batters. In his second start he allowed three runs from five hits over 6 2/3 innings. The Braves have the following career numbers against deGrom:
Marcell Ozuna 10-43, 2 2B, HR, BB, 16 K
Dansby Swanson 6-31, 3 2B, HR, 3 BB, 15 K
Ronald Acuña Jr. 8-30, 2B, 2 BB, 10 K
Austin Riley 5-17, 2 HR, 8 K
Orlando Arcia 2-6, BB, 2 K
Eddie Rosario 1-7, HR, 2 K
Travis d'Arnaud 2-6, HR, 2 K
Robbie Grossman 1-4, 2 K
Matt Olson 0-5, K
The Braves shuffled their rotation around so Mets would have to face Max Fried in this series. Fried has made 29 starts and pitched 180 1/3 innings this season with a 2.50 ERA, 2.73 FIP, 1.020 WHIP and a 165 ERA+. In the month of September Fried has made four starts totaling 22 innings allowing five runs from 14 hits and five walks while striking out 24 batters. Fried has also allowed four homers this month (his season total is 12). This leads to a reverse situation when compared to deGrom. Fried's ERA for the month is 2.05 while his FIP is 4.12.
Fried has pitched against the Mets four times this year, posting a 3.00 ERA across 24 innings of work. The Mets have scored 10 runs, eight earned, from 19 hits and six walks while also smacking two homers. The Mets have the following career numbers against Fried:
Pete Alonso 8-30, 2B, 2 HR, 5 BB, 11 K
Brandon Nimmo 3-21, 2 2B, 4 BB, 8 K
Jeff McNeil 9-25, 3 2B, 5 K
Francisco Lindor 3-21, HR, 4 BB
Eduardo Escobar 3-14, 3 K
Darin Ruf 2-14, BB, 4 K
Mark Canha 4-10, 2B, 2 HR, 2 BB, 3 K
James McCann 0-9, 2 BB, K
Tomás Nido 3-10, 2 2B, K
Daniel Vogelbach 0-3, K
Tyler Naquin 0-3, 2 K
Let's Go Mets!