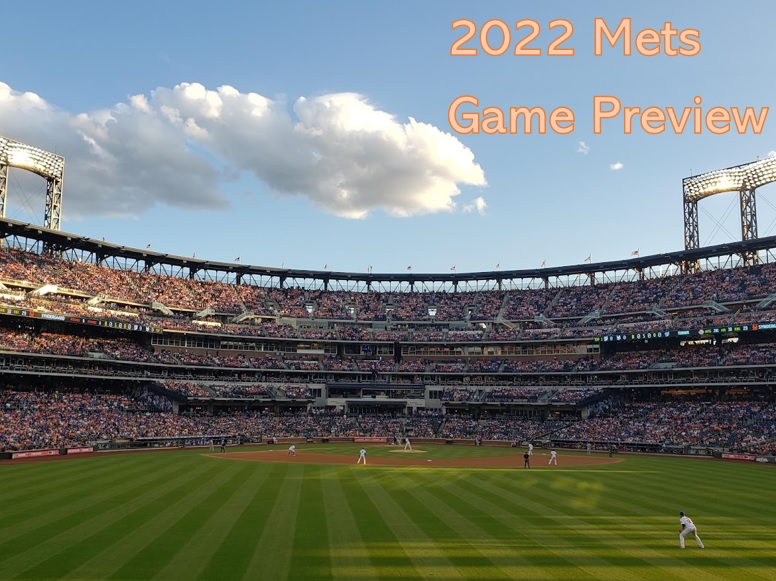 Happy Mother's Day! The Mets will actually play baseball today! (Two games to be precise!)
The rain that has been impacting the majority of the northeast season Friday is finally out of the area and there's a lot of baseball to make up. There are three doubleheaders in baseball today, and that comes on the heals of two doubleheaders yesterday. Rotations are scrambled, so we are taking early in the morning shot in the dark about the pitching matchup for each game today.
The Mets and Phillies have also now had multiple days to marinate on Thursday's epic Mets come back. The New York Mets were down early in the game, trailing 0-4 after the first inning. Entering the 9th inning the Mets were trailing 1-7. But these are your 2022 Mets and in the ninth inning the Mets recorded hit after hit after hit and all of sudden the Mets were leading 8-7. Díaz then shut the door and the Mets took the first game of the series. Since the major loss, Bryce Harper held a players only meeting with the Phillies. The Phillies are probably more anxious than usual to get a win in the first game of the doubleheader.
Max Scherzer looks to keep the good times rolling for the Mets. Over five starts and 31 innings of work he has a 2.61 ERA, 3.03 FIP, 0.806 WHIP and a 145 ERA+. This will already be his third start against the Phillies this season. He's coming off of a start where he allowed four runs over six innings against the Phillies at Citi Field. In that start, a game the Mets eventually won 10-6, Max was hurt by the long ball as the Phillies took him deep three times. For context, Max has allowed a total of four homers this season. His second start of the season was also against the Phillies, in Philly, and he allowed only one run over five innings while striking out 7. The Phillies have the following numbers against Max:
Odubel Herrera 16-56, 4 2B, 3B, 2 HR, 6 BB, 11 K
J.T. Realmuto 6-55, 2B, 2 HR, 4 BB, 17 K
Jean Segura 10-30, HR, BB, 8 K
Rhys Hoskins 1-26, 2B, BB, 14 K
Bryce Harper 4-17, 2 2B, 2 HR, 5 BB, 9 K
Nick Castellanos 2-14, 2 2B, BB, 6 K
Alec Bohm 3-12, 5 K
Kyle Schwarber 3-8, 2 HR, 4 BB, 3 K
Didi Gregorius 1-10, 3 K
The Mets bats will get another look at Kyle Gibson who has pitched 27 2/3 innings over five starts this year with a 2.93 ERA, 3.93 FIP, 1.084 WHIP and a 134 ERA+. His last start out was against the Mets where he allowed one unearned run over 4 1/3 innings of work. The Mets worked the counts that night and got five walks but obviously couldn't do too much with them. The Mets have the following career numbers against Gibson:
Francisco Lindor 15-45, 2B, 6 BB, 7 K
James McCann 6-27, BB, 7 K
Mark Canha 2-16, BB, 3 K
Pete Alonso 0-9, 3 BB, 4 K
Brandon Nimmo 2-10, 2B, HR, 2 BB, K
Jeff McNeil 3-10, 2B, HR, K
J.D. Davis 1-5, 3 BB, 2 K
Eduardo Escobar 2-5, 3 BB, K
Dominic Smith 2-7, 2B
Starling Marte 1-5
Tomás Nido 1-5, 2B, BB, 2 K
Let's Go Mets!