The Diamondbacks have found a dessert companion to go with their Dback Dog from last year: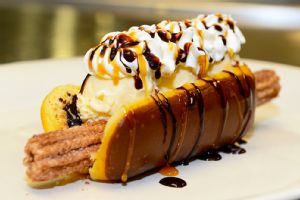 (Source)
Breaking this down, this is a churro in a chocolate glazed doughnut topped with frozen yogurt, whip cream and a chocolate/caramel drizzle. The ESPN article linked above, which is  worth reading because it contains notes from Chef, clocks the dessert dog in at just above 1100 calories.
So it's an extravagant dessert. Part of the reason it looks so nice in the photo is the clean, simple plating. I'm wondering how it will look at the ballpark, especially considering it's part frozen (thus simple cardboard would need to be lined) and it looks like has some weight (and structure) to it.