Parallel cards in baseball have inflated value of cards over the last decade plus. For example, if it's been a while since you have purchased cards, series like Topps have a gold parallel numbered to the year for every card, essentially making 2013 special sets of cards with in the set. There are other serial numbered cards as well, generally including colors like Black, Green, Blue, Orange (these colors for Bowman especially). The only difference between these cards and the normal cards is the color of the card border.
This year, Topps decided to go in a new direction with pink borders and this (from their twitter page):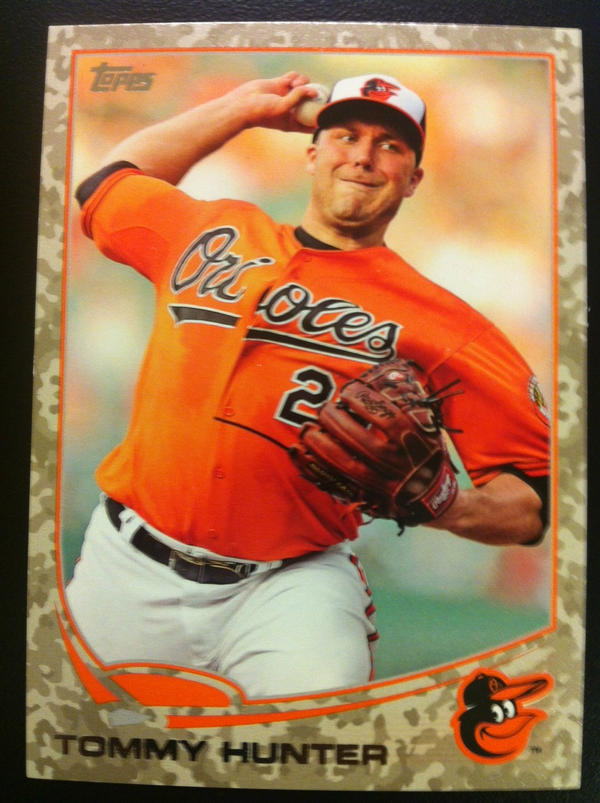 That's a camo border, numbered up to 99. So there are 99 sets of tops cards with camo borders. I've never seen this before and it really continues to blend this idea of the military complex and sports. They have apparently done this already with their football cards. The word is that the camo cards show support for the Armed Forces and Pink cards show support for Breast Cancer Awareness. Are they donating profits for these cards? What is the actually connection? On the whole I'm not a fan of support like this. If there is no money going to either organization, then this is shameful. If there is money, then this is like getting a certain amount of likes on facebook, retweets or followers on twitter for charity (like the Mets just did). If you are going to donate money, just do it.